Animal prints first gained popularity in the 1920s when the Art Deco movement influenced fashion and design. They experienced a resurgence in the 1960s and 1970s during the bohemian and disco eras, and have since become a timeless and versatile fashion statement. Animal prints can be found in a variety of colors, from the traditional black and brown tones to more vibrant and unconventional hues.
It's worth noting that the popularity of specific animal prints can vary over time. While leopard and cheetah prints have remained consistently popular, other prints like snake or zebra may experience fluctuations in popularity depending on current fashion trends. Ultimately, the animal print trend continues to be a favorite choice for those seeking to add a touch of fierceness and sophistication to their wardrobe.
We created our own spin by creating quirky motifs and imagery. One of them being the Eyes of the Tiger, that comes in a bag and a clutch, which is centered on a close up on the face of our favourite feline.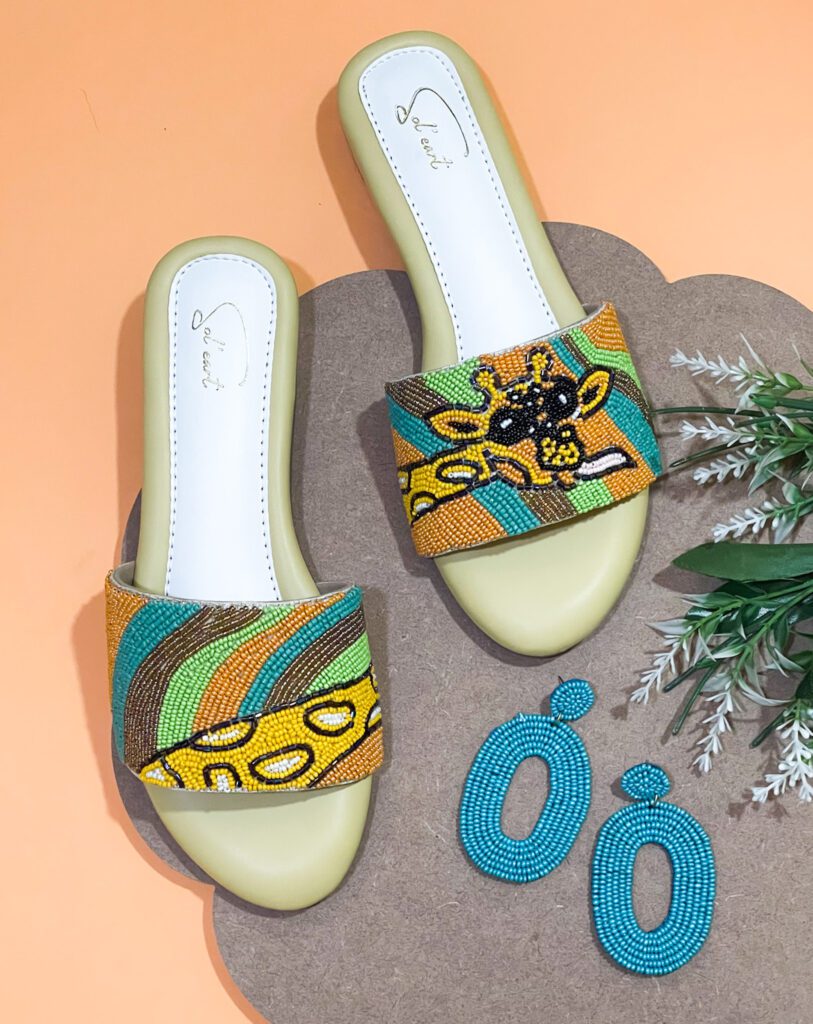 Whether you're wearing them to a summer festival, a beach outing, or simply as a fashion statement, our Goofy Giraffe sliders with a psychedelic print would certainly turn heads and spark conversations. They would be a great choice for those who embrace the animal print trend while adding a whimsical and psychedelic twist to their outfit.
The bee motif is incorporated into the design by featuring a beautifully crafted bee emblem on one foot. The bee is adorned with jewels and stones to add a touch of shimmer and glamour. The overall color palette consists of soft and muted tones such as champagne, blush pink and ivory, creating a subtle and elegant backdrop for the sequins. These sliders embody a blend of elegance, subtle sparkle, and the symbolism of a queen bee. A fashion-forward choice for those who want to embrace their inner queen while adding a touch of sophistication to their footwear collection.

This clutch mimicking the skin of a giraffe is made from stones and beads and is a statement accessory that can be paired with a variety of outfits. It would add a pop of color and personality to a simple black dress or serve as a focal point when combined with a neutral-toned ensemble. Overall, this unique clutch is a standout piece for those who appreciate distinctive and artistic fashion.
Finally, rounding up our Animalistic collection is an assortment of our handmade earrings, all of various animals that can be a fun and whimsical accessory that adds a touch of charm and playfulness to any outfit.